What are time cards and why does your business need them?
A time card is a simple timesheet calculator that helps quickly count billable and working hours of employees. All you need to do is fill out starting and ending work times, lunch breaks, overtime hours, and hourly rates.
Now, you don't have to waste your time filling out paper timesheet templates or invent your own working time counting system in cumbersome Excel spreadsheets. With Everhour's free timesheet calculator you and your employees can swiftly fill, print, and share this handy work schedule.
On top of that, it's a simply customizable time card calculator that goes in a convenient format of weekly or bi-weekly timesheets. With this handy time entry calculator, you can keep all your and your employees' working hours in check, as well as track work-related expenses.
Who is a timesheet calculator for?
Everhour's free time card calculator fits in well with diverse businesses of various scales. It works great for:
Individual entrepreneurs — track working time and count working hours with a handy timesheet calculator so you know the value of your time — and so does your client

Start-ups — scale-up teams can use time cards to keep track of working hours in the company and accurately process and manage payroll, and so much more

Small and medium enterprises — use calculating timesheets to estimate the working time of your teams and subcontracts at various hourly rates as well as time-off of your employees

Large-scale businesses — utilize a card calculator in the form of time tracking software, which can be easily integrated with other project management apps and helps to control the working time of employees on-site or remotely.
Using the time card / timesheet calculator effectively
Everhour's timesheet calculator includes the most essential features that allow you to accurately track time for your business needs and manage employee scheduling and precisely calculate the payable hours. Here's how it works.
Customizing timesheets
Start with the Calculator options at the bottom of the timesheet. Choose the reporting period—note, that it always starts with a Monday. Then decide if you need a weekly or a bi-weekly time card by placing the number of weeks and number of days in a week in the relevant fields.
After that, choose how you want to deduct break time from the total hours—by a certain amount of time for breaks or an exact interval, e.g. lunch break, etc. Then establish time format, currency, hourly rate, daily overtime hours, daily double overtime hours, weekly overtime hours.
If you need a monthly timesheet calculator, then you can create two bi-weekly time cards or use a full-scale timesheet app from Everhour. Now, it's time to move on to counting work hours.
Counting working hours
Managing a time card calculator to count working hours is as simple as using a full-fledged time tracking app. To estimate the total of your or your employees' weekly work hours, you just need to fill out:
Time in — the field shows when an employee enters the app
Break start — if an employee needs a break for lunch, they enter the time when lunch starts
Break end — the time when the employee gets back to work
Time out — the field that displays when an employee finishes their work
Time off — an employee's non-working time.
The Total field will calculate the total number of hours an employee has spent working. The Copy button and Checkbox help to quickly transit all the filled-out data in the line to the chosen days for you and your employees to avoid monotonous entering the same data in the fields.
Deducting break time
The time card calculator includes Break start and Break end fields. The two fields allow you to automatically deduct the break time from total hours. You just need to enter the two values when a break starts and ends. Also, you can establish standard break times for all days in a week or specify certain break hours for each day.
Calculating payments
You can simply calculate an employee's payment rate by entering its value into the Hourly rate field and specifying the currency type in the Currency field. The time card will automatically calculate the sum in the Total gross pay and will also reveal overtime payment and double overtime payment rates.
Tracking overtime hours and payment
The timesheet calculator with overtime automatically counts the time employees are overworked by 1.5x. For this, you need to enter the value in the Daily OT field. If you want to establish a double 2x payment for overtime, then you need to use the Daily DOT field. If you don't need to calculate overtime, just leave Daily OT, Weekly OT, and Daily DOT fields empty.
The timesheet will display all the overtime hours worked and overtime payment in the section below the table with weekdays.
Exporting and printing data
As you're ready with the time counting, move to the next block below. Enter Employee name and Footnotes, e.g. a placeholder for the name and signature of the supervisor. Now, you can simply print the timesheet, export it as a CSV file, or reset the data and start a new time card.
Saving time cards
If you want to use the time card you created earlier, you can save it in CSV format and after import it into the Everhour's time clock app and enjoy much wider functionality alongside time tracking, e.g. project budgeting, flexible billing, team management, resource management, project reporting, sending invoices, expense tracking, and much more.
How can a time card calculator help you?
Everhour time card calculator is an effective tool that you can use for:
working time tracking of each team member or an employee in your company

overall working hours for you and your employees and as an attendance tracker

calculation of billable and non-billable hours, separating break time and time-offs from the billing hours

accurate payroll

statistics on how productive your team members and employees are

and sharing detailed reports to your employees and clients
With the Everhour timesheets, you will get detailed reports on each employee's working and non-working hours and will be able to accurately estimate the working time you need to pay for.
Moreover, each team member can track their own working time and be in full control of their income. Everhour's time card calculator can help you and your employees establish transparent and effective working relationships and boost productivity in your company.
Advantages of the Everhour time card calculator
Here are the 5 reasons why you need to try Everhour's time card calculator:
your project management by decreasing the time you spend on tracking and calculating your employees' working hours

your clients with accurate billing and receive appropriate payment for the time you've worked

calculate overtime working hours and include them in the payroll

detailed statistics on each team member working hours
Want to get more from your timesheet calculator?
Everhour is an effective time tracking software that helps you accurately keep track of your team's working time. Our enhanced time card calculator is a free tool that lets you monitor work time effectively and simply, for when you need a simple solution. Try our free time card calculator for you and your team and discover more with a full-fledged solution from Everhour.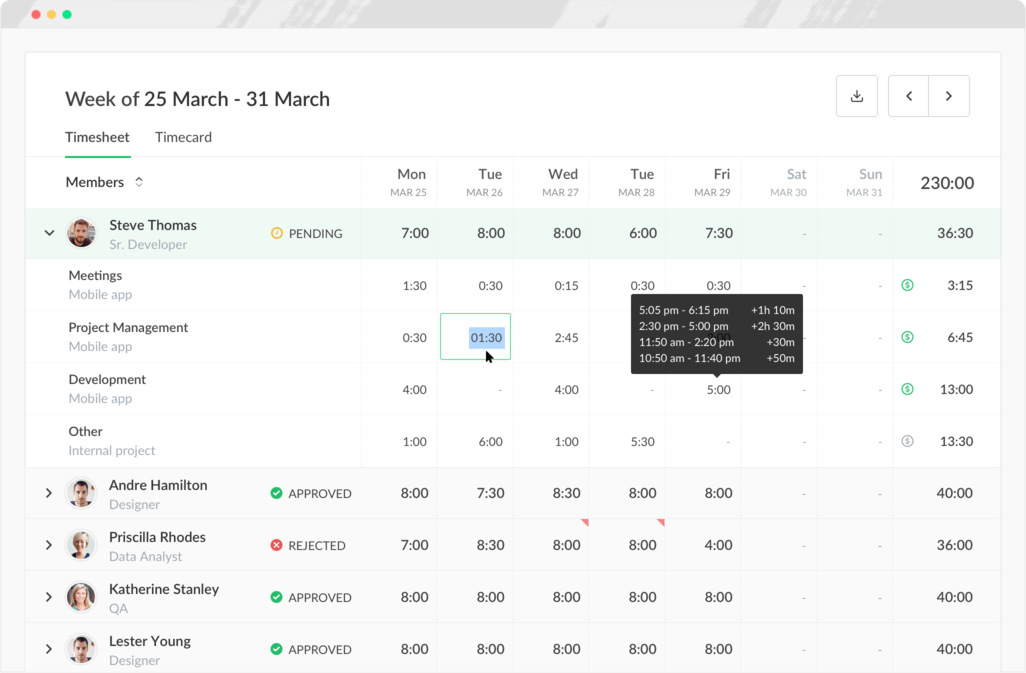 Track your team's performance with a time card calculator from Everhour:
Add working hours
Exclude breaks or day-offs
Estimate overtime accurately