Trello time tracking integration
Time tracking in Trello with timesheets, budgeting, client reporting, and payroll.
Works inside Trello. No more tab switching!
Why Trello + Everhour is the best time tracking integration on the market?
1. Quick setup
We sync all your projects automatically. Sign up and start tracking time right away. No manual project setup is required.
2. Less employee teaching
You don't need to explain much to your staff. Time tracking controls will naturally appear right inside the Trello interface, making it easy to track time.
3. Accuracy
You often forget to track time as it's not convenient to switch between apps. Everhour eliminates these steps and improves time tracking accuracy.
4. Estimates are always in front of you
Everhour shows time vs. estimate beside task and subtask titles. When the entire team sees progress, they will urge you to ensure the work is done.
5. Automatic updates
When you add a new project or change the name of the existing task in Trello, Everhour will sync this change automatically. That means your reports will always show the freshest data.
6. Detailed reports
Everhour let you organize reported time using various information from Trello such as labels, columns, or custom fields. So you can dive deeper into analysis to get more accurate results.
How does Everhour improve Trello?
After you successfully connected Everhour and Trello, there are multiple
useful features you can start using directly in your Trello interface
Time and estimate along with tasks
With Everhour, you can easily track time in any task within Trello. You will see the timer and reported time next to the task title as well as the total time by each column (list) and the entire project.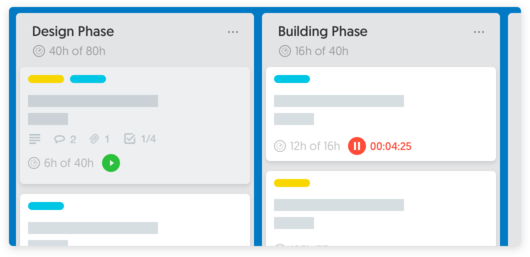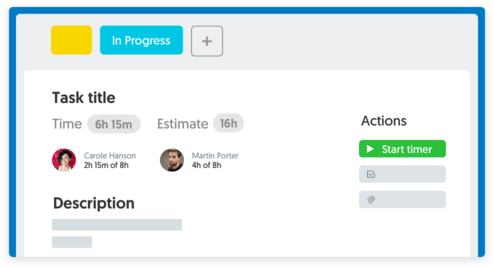 Time in task details
In the task details, you'll see the reported time by each employee and its progress towards the original estimate. You can track time using a timer or log time manually at any time.
Budget near project title
With the help of Everhour, any project in Trello can have a budget set in hours or money. You can even set up an advance notification.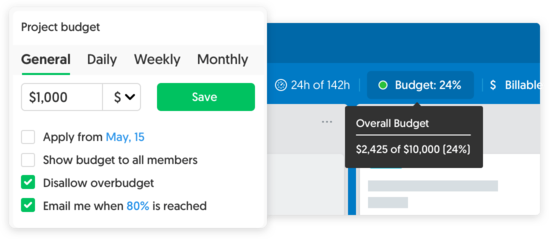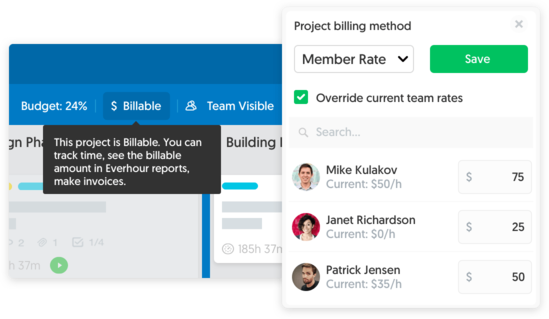 Mark any task as "non-billable"
Everhour lets you configure any project or employee as billable or not, but also automatically excludes certain tasks' time from the billable amount calculation.
Your questions. Answered!
Here is the list of the most frequent questions. If you'd have other questions or ideas — contact us.
Is Everhour easy to connect with Trello?
Yes. Just click Try with my Trello and connect it with Everhour. The next step would be to install our browser extension. And that's it! Open your Trello and start tracking time.
How does Everhour for Trello work?
After integration, Everhour embeds controls into the Trello interface and thus extends it with many useful features. You can keep tracking time from Trello, through the Everhour website or browser extension.
What if not all my Trello users need time tracking?
No problem. You can invite and pay only for those Trello users who are going to track time and use other Everhour features.
Will someone else (like clients) see my time in Trello?
Only those people who are a part of your Everhour team and installed our browser extension can see time-related data in Trello.
How to invite other Trello users to Everhour?
After you register an Everhour account and connect it with Trello, you can track time only for yourself. To invite teammates, you should go to the Everhour team page and manually invite your team by entering their emails. Each employee should finish the signup flow and connect their Trello account.
Does Everhour work on Trello native apps?
As of now, you can't see the Everhour timer and other controls inside Trello desktop and mobile apps. But we definitely look into ways to change that. One of the next things to try is to build our "power-up", which is a way to make a cross-platform integration with Trello. It could become a solution, but for a desktop app only. The mobile app still doesn't officially support third-party apps.